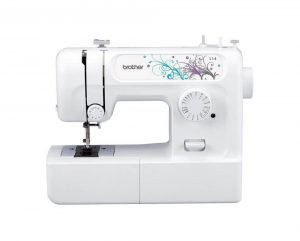 If you're looking to buy your first sewing machine then you're probably not interested in spending thousands of pounds on something you're not sure you'll even use that much. You'll need a reliable, functional, easy to use sewing machine which has enough features to get you started and to keep things interesting. You'll also probably want to find an affordable sewing machine to learn the basics on before deciding to invest in something more high end.
Of course there are other reasons why you might want an affordable sewing machine. Perhaps you want a sewing machine for functional reasons like repairs and alterations and you don't want to spend extra on a bunch of features you'll never use, or maybe you love sewing but can only afford a budget model at the moment. Whatever the reason you might have googled some sewing machines and felt a bit alarmed at how expensive they are. It's true that many popular models have quite hefty price tags but it's still perfectly possible to find a good, functional sewing machine at a budget price without compromising on quality standards.
Review Of The Brother L 14 Sewing Machine
Decent budget sewing machines can unfortunately be quite hard to find. Luckily for you we've come to the rescue with a detailed buyers guide to an excellent budget sewing machine, so without further ado let's learn more about the Brother L 14 Sewing Machine.
Affordable
Prices will vary depending on the online retailer but this Brother L 14 sewing machine typically costs under £100. That's a very decent price for a starter/part time machine and it'll help you grasp the basics of sewing without having to fork out loads of extra money on something you still might not be sure about.
Lightweight And Portable
One of the annoying things about sewing machines is that they tend to be really heavy. High end models often include loads of internal metal parts, which does make them last longer but isn't exactly making them any lighter, and therefore sewing machines can be a real pain for people who don't have that much space in their homes or simply anyone who doesn't want to break their back every time they take the sewing machine out.
The L 14 is great in this respect because it has the best of both worlds. It offers a strong metal chassis whilst still being lightweight,  easy to transport and store when not in use.
Easy and Quiet Operation
One of the common complaints people have about budget sewing machines is that they tend to be clunky to use and really, really loud. These problems can really ruin your sewing experience and might even make you give it up altogether, but luckily the Brother L 14 is smooth, easy to use and operates remarkably quietly.
14 Stitches
The number of stitches a sewing machine might offer tends to range from under 10 to way over 200. Some stitches are really important for certain functions but others are quite specific and you may find you don't actually end up using even half of the stitches you'll find on a high end machine. You can't really expect a budget sewing machine to offer tons of additional stitches but for its price 14 stitches is a very reasonable number which should let you cover all the basics without over complicating things.
LED Light
LED lighting is actually a pretty common feature with higher end sewing machines for a number of reasons. LED lights are much better for colour accuracy and they won't unpleasantly discolour your threads in the same way that a light bulb might, LED lights also don't need to be replaced nearly as often as light bulbs and so they can actually save you some money in the long term, and lastly the LED light is generally stronger than a bulb and is better for working in dimly lit areas.
Instructional DVD
This sewing machine comes with an informative DVD which will show you the different functions of your sewing machine and how to use it effectively. This sewing machine is fairly easy to use as it goes but if you're new to sewing or you're just used to a different model than having visual guidance can save you a lot of time, stress and will ensure you can start using and enjoying your sewing machine as soon as possible.
3 Year Warranty
When you're looking to buy a sewing machine it's always a good idea to invest in one with a strong warranty, regardless if the machine in question cost £100 or £1000. You don't want to spend time buying a sewing machine and figuring out how to use it only to have it break on you within a few months and there's not much point in budget buying if you end up buying a new machine every six months or so. The Brother L 14 offers a 3 year warranty so you can get some peace of mind from the knowledge that this machine was built to last and you'll be covered for any manufactured damages.
Summary
Features: Affordable – Lightweight – Portable – Easy and Quiet Operation – 14 Stitches – LED Light – Instructional DVD – 3 Year Warranty.
Pricing: Affordable