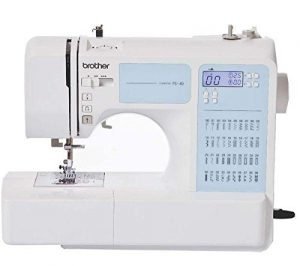 Searching for the perfect sewing machine is never easy. There are almost too many options to choose from and with so many different reviews saying that this one sewing machine is the best option only exacerbates things, especially if this is your first sewing machine or if you're getting back into sewing after a long break. The truth is that there is no perfect sewing machine and one person's ideal sewing machine might not be a good fit for someone else.
Review Of The Brother FS40 Sewing Machine
Before deciding on which model you should buy you need to ask yourself some questions. Are you going to be sewing all the time or just now and then? Do you want a complicated machine with loads of extra options or do you just want the basics? What is your budget and experience level? Electric or manual? Before going any further take a moment to think about your sewing needs and keep them in mind for the rest of this review.
This is a review of the Brother FS40 Sewing Machine. It's a great option for beginners and experienced users alike so take a look and by the end of the review you'll know if this sewing machine is right for you.
Suitable For Advanced Users and Newbies Alike
This sewing machine has enough features to keep more advanced users happy but it is also easy enough to suit beginners. If you're just starting out and you want a sewing machine you can grow into and continue to use as you progress then you've come to the right place.
40 Stitches
The more stitches a sewing machine has the more things you'll be able to make. Some stitches are necessary for certain projects like dress making and embroidery, some are necessary for loads of different jobs and some are really specific. Some sewing machines offer hundreds of stitches but you need to consider whether you're actually going to use all of them and if its worth paying more for more stitches if you only use your sewing machine for specific projects.
40 stitches is a reasonable number which includes all the necessities that you'll need for home furnishings, dress making and more complicated projects without any unnecessary frills. Unless you're an expert or you really want to experiment with everything possible 40 stitches should do fine.
Start/Stop Button and Speed Control
This sewing machine includes a start and stop button which allows you to quickly start sewing and stop whenever you want with no extra effort, and it also has a slide speed control which allows you to control the speed of the machine with your hands. What's great about these controls is that they allow you to control the sewing machine without having to use the included foot control so you have the choice of operating the FS40 with your hands or feet.
Bobbin
This sewing machine includes a drop in bobbin and an automatic bobbin winder. This will wind your bobbins for you so you don't have to waste time doing it manually and it will make the sewing machine easier to set up so you can get started quicker.
Five 1 Step Button Holes
1 step button holes are great because the process only takes one easy step rather than the four steps needed for some other models. The Brother FS40 has five different button holes so you have a lot of choice over the size and type of buttons you want to create and it lets you experiment with different looks and designs.
Automatic Stitch Selection +Length and Width Controls
These controls make it easy to select which stitch you want, the desired length and required width via a simple control so you don't have to waste time on fiddly manual instructions.
LED Light
LED lights have the advantage over regular bulbs because they never need to be replaced and do they can save you time and effort in the long run. Another distinct advantage of having an LED light is that regular bulbs can sometimes turn your threads into a nasty yellow colour but there's no risk of discolouration from an LED light.
Reverse Sewing Button And 7 Included Feet
This handy little feature let's you lock your stitches off if you have to finish in a hurry whilst the included 7 feet helps you pick up where you left off and add to your creations.
Instructional DVD
This is an invaluable accessory that will show you how to use all aspects of the Brother FS40. This is especially ideal for beginners but as sewing machines can vary greatly between models it's always a good idea for even the most seasoned users to have some guidance on how to operate a new machine.
3 Year Warranty
It's really important to make sure that a big purchase like a sewing machine is covered by a decent warranty because there's nothing worse than investing time and money in a machine which breaks after a few months and can't be replaced. The warranty is also a good indication of how long a manufacturer expects their product to last because there would be no point in slapping a long warranty on a faulty product which is likely to break in a few months as you would keep losing money replacing them. The 3 year warranty shows that the manufacturers at Brothers built this machine to last.
Summary
Features: Suitable For Beginners And Advanced Users – 40 Stitches – Easy Hands On Controls – Automatic Bobbin Wonder – Five 1 Step Button Holes – LED Light – Reverse Sewing Button – 7 Included Feet – Instructional DVD – 3 Year Warranty.
Pricing: Mid-Range/ Affordable
40 Stitch Electronic Sewing Machine
Drop in bobbin & drop feed mechanism
Start/ Stop button and speed control which also enables speed limiting
Quick touch stitch selection and length & width adjustment
5 x 1 Step Button holes