What Is A Low Shank Sewing Machine?
Low shank sewing machines are very common on the market and are perfect for domestic home use or beginners who are looking to get into sewing, some of the top brands such as Brother use a low shank model design on nearly all their machines.
So what actually is a low shank sewing machine? Well, a low-shank sewing machine is a domestic machine that has 1/2 inch distance from your machines needle plate, this can be measured via a scale.
A sewing machine that has over a 1-inch distance from its presser bar screw to presser foot is considered a high shank industrial sewing machine.
"On the contrary to what many people think, a low shank sewing machine is actually much more versatile than a high shank machine, as high shank models are more suited to specific and repetitive industrial tasks."
Now you might be wondering, what really is a shank? Or how do low shank machines match up to high ones?
We've got you covered with our little info guide below to help you out.
What Is a Shank?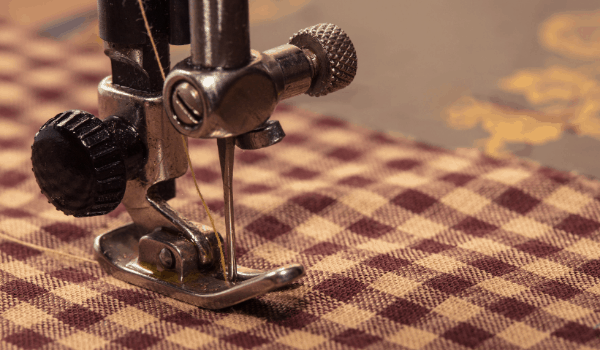 Shanks come in high and low designs and are the metal rod that you attach on to your presser foot; which is what holds the fabric down while you sew.
Low shank sewing machines give the user much more versatility when it comes to sewing, as they can be used with a variety of presser feet depending on the finish and fabric you want to deal with.
Shanks can also come as screw-on models or snap-on models depending on how you want to attach it to your machine.
High Shank VS Low Shank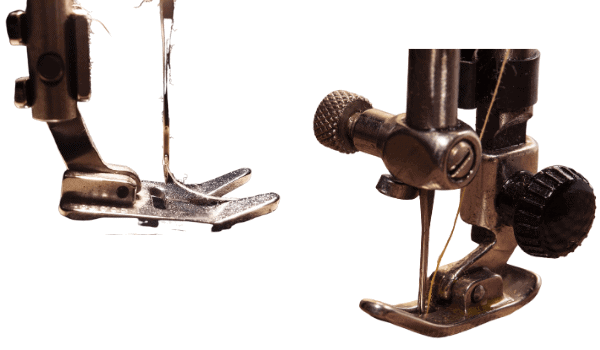 If you are looking to use your sewing machine for domestic and home business use, then a low shank sewing machine is normally more than sufficient for your needs.
They also tend to be much less expensive than high shank models and can be used with a variety of presser feet.
The only disadvantage of low shank sewing machines has to be that they have less space, meaning you can get more limited bulk under your machine.
It's best to go for a high shank machine if you're looking to sew for specific tasks, need more bulk clearance, and want to use your machine on an industrial level, otherwise, they are not necessary.
"Low shank sewing machines are perfect for beginners and often come with a great stitch variety to get you started in the sewing game."
What Presser Feet Can I Use With a Low Shank Machine
A presser foot holds the fabric you are sewing with on the machine, this makes it possible for the needle to pass through the fabric with thread and work with the feed dog, as well as your hand to move the fabric back and forth when sewing.
Presser feet can come in many different styles and some of the most common ones can be used with low shank sewing machines, these allow you to sew different fabrics and sew different styles into your fabric easily.
We have listed out the most common presser feet you can use with your machine below.
Zipper Foot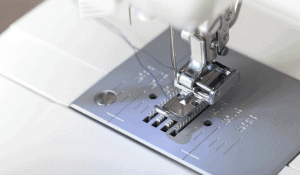 If you are looking to thread around zippers on your fabric then this is the kind of foot you should be using with your low shank sewing machine.
The zipper foot can only be used for sewing around zippers and is capable of being adjusted to work on either the left or right side of your zipper.
All-Purpose Presser Foot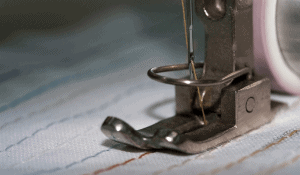 This type of foot is a must in your sewing kit and can help you sew anything hence why its called an 'all-purpose' foot. This foot is perfect for a straight single needle sewing machine but doesn't have any special features.
Blind Hem Foot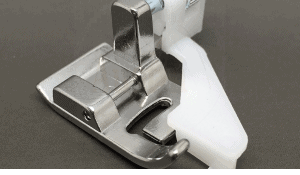 For sewing hems on clothes, you will need a blind hem foot to use with your low shank model.
A blind hem foot will come with an extension on the front of it that can help you measure the fold of your fabric for the hem, giving consistent results when sewing.
Sew Easy Foot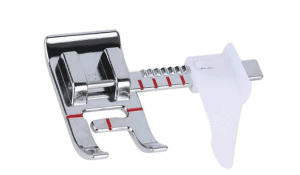 This foot can support your sewing in a consistent and straight line, it comes with a ruler and guide to help with accuracy too.
Jeans Presser Foot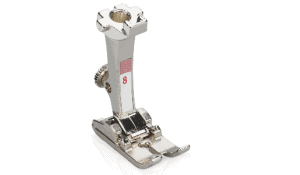 For tougher materials such as denim, a jeans presser foot can come in handy to help you sew your jeans correctly with a guide.
Slant Shank
The Singer sewing brand has a slant shank foot which can connect to their machines pressure bar, this foot/shank slants backwards.
Snap-On Foot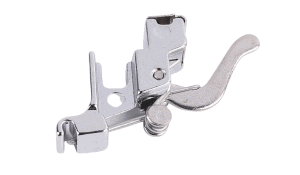 This presser foot can be used with any machine that it can snap on to and is very universal as it requires no tools to be fitted. This foot is compatible with nearly all kinds of low shank sewing machines on the market.
What Attachments Can I Use With a Low Shank Sewing Machine?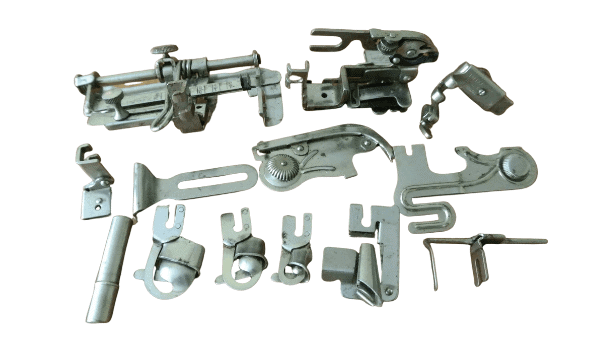 Now we have looked at the compatible presser feet you can use with on your low shank model, you might be asking yourself what attachments are compatible too.
We have put together a group of the most common attachments that are perfect for a low shank sewing machine.
Embroidery attachment - For quilts and pattern designs, you could use an embroidery attachment with your low shank sewing machine to help you achieve a more accurate and professional finish to your stitching.
Hemming attachment - When sewing hems on clothes and any small touch-ups, a hemming attachment is necessary for accuracy.
Ruffler attachment - For any pleated clothes such as skirts and dresses, the Ruffler attachment can help you achieve consistent ruffles in your work.
Final Words
Low shank sewing machines are the best and most affordable option on the market if you are looking to start sewing for a home business or learn as a beginner.
They can be used with a variety of feet and attachments too, allowing you to achieve a professional look on your sewing work.
If you own a low shank sewing machine and recommend it, or have any tips and tricks for attachments and feet, please leave a comment below with your suggestions.