What Does An Overlocker Do On A Sewing Machine?
For a beginner sewer, sewing machines can be slightly intimidating and overwhelming. While there are usually user manuals that come with each sewing machine you purchase, they do little in explaining the function of each individual part of your machine.
Even if you are an experienced sewer, you may not have come across an overlocker due to the fact that they do not come with every machine.
In this article, we will be focusing on this important feature that can help you expand not only your technical sewing ability but also your creativity.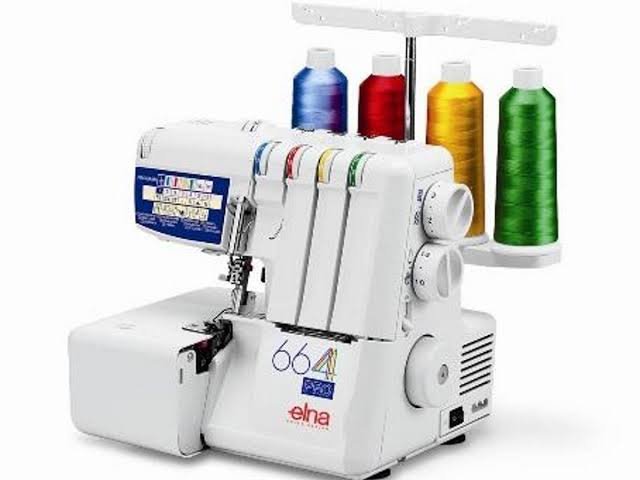 The Basics
To understand if you have a need for an overlocker, you must first understand what one is. An overlocker is a type of sewing machine that produces overlock stitches over multiple layers of fabric for edging, hemming or seaming.
The machine works by stitching with either 2, 3,4 or 5 threads at one time rather than using a bobbin as with standard sewing machines. This, in turn, reduces the amount of work involved in assembling your finished item.
What Are The Different Types Of Overlock Stitches?
One Thread Overlock –
This is the same kind of threading used on a standard sewing machine. This type of stitch is most commonly used for end to end seaming for a textile finish.
Two Thread Overlock –
This is the most common in every overlock sewing machine as this type of stitch has countless uses. Not only does it help with edging and seaming woven fabrics but it also has the ability to attach elastic and lace without damaging the material.
It is also good for general hemming as well as stitching flatlock seams which makes it a great sewing machine for making clothes. 
Three Thread Overlock –
This is the most popular choice for decorative sewers. While it has the abilities of the two thread overlock stitch, it can also stitch pintucks as well as having the ability to create narrow rolled hems.
Four Thread Overlock –
If you are planning on seaming high stressed areas then the four thread overlock is the choice for you. While it creates a flexible stitch, it also mimics a safety stitch in terms of strength.
It also has the capability to create decorative edgings and finishings.
Five Thread Overlock –
Due to this being the most amount of threads used, it is the most expensive. The safety stitch that it produces is a combination of a two thread chain stitch and a three thread overlock which helps to create a strong seam for heavyweight fabrics e.g denim.
A five thread overlock machine gets rid of the need to reinforce the seam with additional straight stitches from a standard sewing machine.
What Can I Use My Overlock Machine For?
An overlock machine is an ideal machine for making clothes and quilting due to the security of the stitches and the quality of work it produces. However, if you are looking for a machine to do embroidery details then the overlocker is not for you.
Types Of Stitches Explained
When searching for your overlocker, you should look at the stitching ability as well as the thread overlock stitch. Here are the four main stitches that overlockers can provide:
Flatlocking – This is used to join fabrics edge to edge and producers a slim seam which lays flat. This stitch can be used on projects such as athletic clothing or patchwork squares as it does not leave a bulky seam.
Narrow Hem – This is a three thread hem which give a slimmer and more discrete finish compared to a standard overlock stitch.
Rolled Hem – This is another three thread hem but instead slightly rolls the fabric under before being hemmed to create a unique edging effect.
Cover Stitch – This is a wider hem that can be found on the bottom of shirts of trouser bottoms and is considered a good look for garments. You do have to make sure that your overlock machine can do this stitch as not all of them do.
Do I Have The Ability To Vary My Stitches?
All overlockers allow you to change stitch width and density as well as allowing you to add variation in stitch types by changing the feed function.
What Are The Differential Feeds?
If you want to get the best results from your overlocker, then you need to understand how it works. Overlockers have two sets of feed dogs, the front and the back. This means that each of the feed dogs can be operated at different speeds.
You are able to adjust the speed form a dial on your machine which is usually set to N for normal feed meaning that both the feed dogs move at the same time.
Changing the speeds gives you the ability to correct the feeding process for stretching of your fabric as you sew. You can also use it for different interesting effect such as ruffling or a lettuce edge.
Should I Buy An Overlocker?
There is no standard answer for this question as it all comes down to your sewing needs. If you only sew every so often then this kind of sewing machine is not worth the money, instead consider one of these budget standard sewing machines.  
On the other hand, if you tend to do a lot of sewing regarding clothes and garments then an overlocker could become your new best friend.
Pros Of An Overlocker
An overlocker is able to simplify your stitches or edges while also trimming excess seam allowance all in one. Due to these machines being very fast ( up to 1600 stitches a minute), your sewing can be finished quicker and to a higher standard.
Overlockers also give you a lot more variety in what you can do. They are excellent for attaching elastic, something a standard machine struggles to do. They are also handy for decorative edging and tolled hemming.
Cons Of An Overlocker
Setting up your overlocker up and threading it can be a little bit tricky compared to standard sewing machines, however over time you will get used to it.
It is also worth noting that while overlockers are a great piece of equipment to own, they do not do it all. You will also need a standard sewing machine for topstitching or inserting buttonholes and zippers. You need to think carefully if an overlocker is worth the extra expense for you.