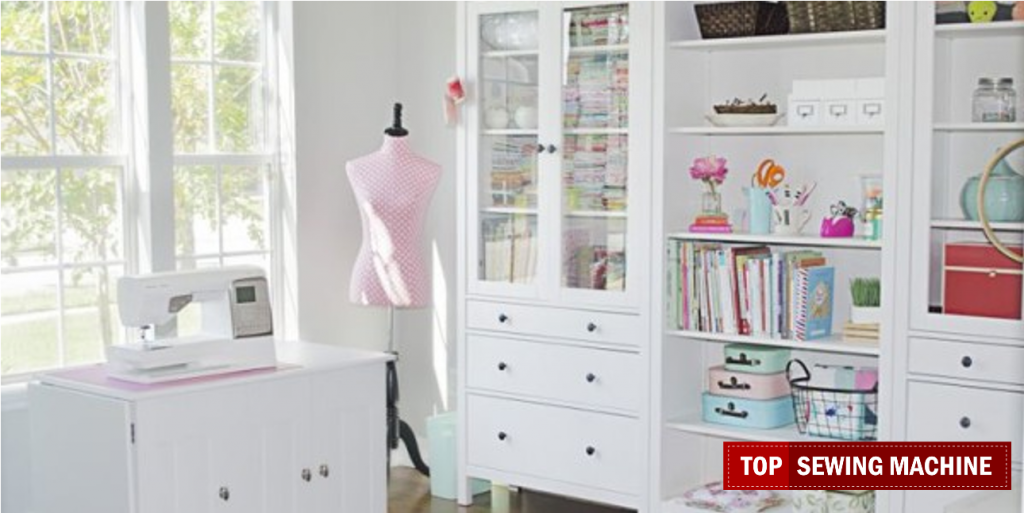 Sewing Room Ideas!
If you work in a cramped, unorganised dor plain boring space then your work will mirror that. It does not matter if you are using the best industrial sewing machine on the market or the worst. Your work will reflect your workspace.
To prevent this from happening, this article will give you some sewing workstation ideas which will help you get your creative streak back.
Lots Of Surfaces
No matter what projects you are doing, you will find that the more surfaces you have the better. While you may have a big desk it is always good to have extra surfaces dotted around the room that is not taken up by your sewing machine.
One way of doing this is to have a table (either a dining room like table or a crafting table) somewhere in the middle of your room. This will make you feel as though you have somewhere else to work rather than being stuck in one spot.
Use Bright Colours
An easy way around a boring room is to use bright and cheerful colours. If you have mostly white furniture, instead of paying out for something more colourful just paint it yourself. That way you have more control over the colour scheme you want without having to pay out a silly amount.
Another way around the boring colours is displaying your own work. Sew your own curtains or craft your own table cloth. Not only will this give you project ideas but you will also be able to design exactly what you want for half the price of buying it.
Storage
Storage is a big thing for any sewing place of work. If you have all your bits and bobs lying around then you will feel unorganised and overwhelmed but do not worry, there are plenty of ways to overcome this.
Table Storage -
Why not use your table for more than one reason? Sure it makes a great workspace but why not create some shelves that ben go under the table? This way you will have everything you need close by without being too disorganised.
By having storage underneath the table, this will keep your work surface mostly clear.
There are tables that are specially designed to give you storage during sewing. For example, a quilting table comes with storage in order to maximise your space and give you the cutting surface you need for you are your quilting machine.
Fabric Storage
A storage location close to where you working is the ideal place to store your fabric. The best place would be a cupboard with shelving units built inside so that you can keep your fabric out of direct sunlight as this will make the colours fade.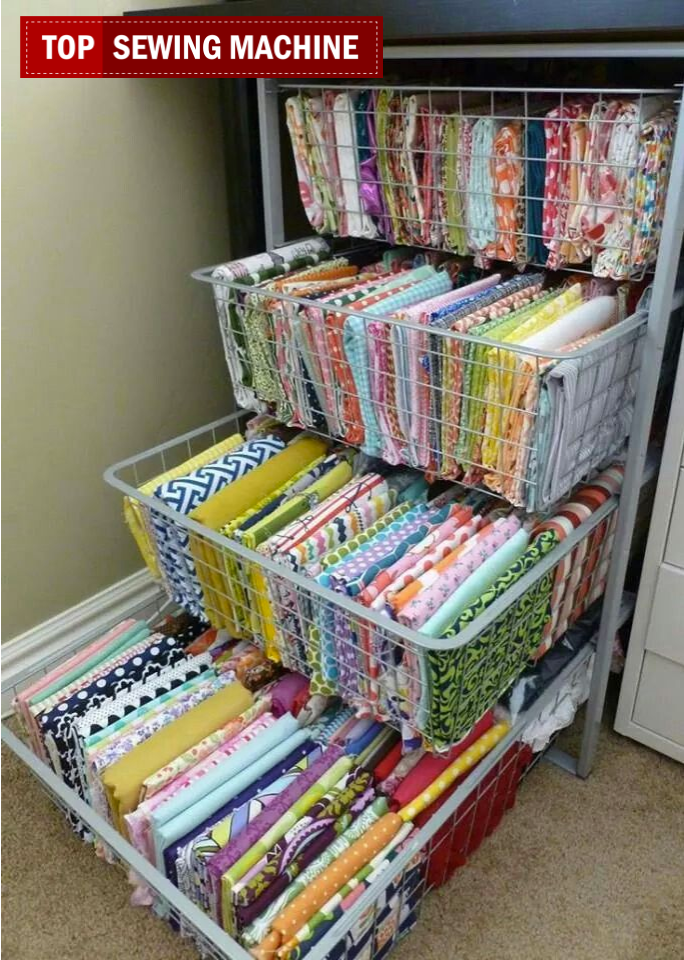 A good idea is to preshrink fabric right after you buy it and keep it in a storage container so that it keeps clean and does not keep hold of any nasty smells.
Do not forget to label your storage containers as some fabrics can look identical in a plastic bag but can be completely different.
If you do plan on storing your fabric in containers then make sure to go out of your way to get the fabrics out every so often to unfold and refold them. This prevents any creases from staying in your fabrics while you are dressmaking or sewing.
Create Your Sewing Corner
If you are a beginner or tend to sew in a domestic setting, then it may not always be visible to have an entire room dedicated to your sewing projects. A good way to have your own space while not taking up too much room is to create your own sewing corner.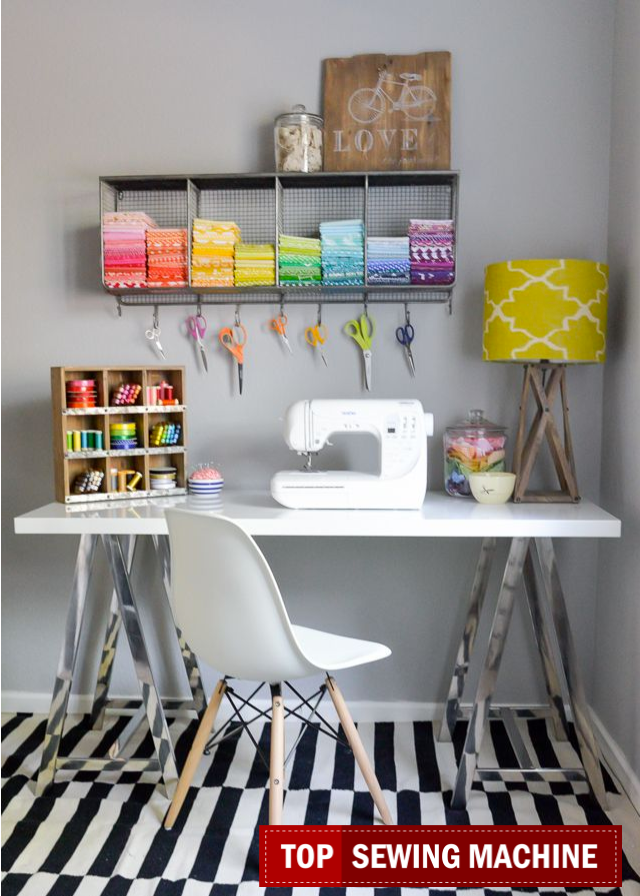 This is easily achieved. Every house will have an unused closet or little nook that is just empty. Get creative as you want with this area. Accent wallpaper will set it apart from the rest of the room. Shelves and a wide table top will maximise the use of the space.
Do not forget under table storage, in this situation, it will be your best friend. Just be sure to use colourful table top storge containers and have a few decorative pieces on the wall so that our space remains as creative as possible rather than feeling like you have been shoved into one corner with your sewing machine. .
Make this domestic space your creative heaven.
How To Plan Your Space
Before you randomly move things around to fit wherever, take time to plan an over all layout on a piece of paper. This will allow you to space things out better so that the finished result is not cramped and pushed together.
While this may be more time consuming than just moving everything around, you will be thankful that you have done it. It will save a lot more moving around later on in the processes.