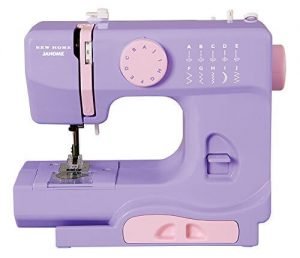 Sewing machines come in many shapes and sizes. Some people swear by the larger, bulkier models and it's true that they have the advantage of being able to handle more difficult tasks and those with metal internal parts do tend to last longer, but the truth is not all of us have the space, strength or money to invest in a huge and expensive sewing machine. Some of you may want a portable model so that you can take it to a friend's house or sewing class whilst others may just want a lightweight machine which is easy to store when not in use.
Review of the Janome New Home Portable Sewing Machine
If you are a first time buyer and you're new to sewing you may be a bit reluctant to spend loads of money on a huge, complicated sewing machine which will take a lot of time to master. As time goes on and you start getting better at sewing you may want to invest in a more professional product,  but for now you should be fine with a starter machine which can teach you the basics and help you get started on your sewing journey without leaving you stressed and confused. Most of the reviews you tend to find online are focused on high end, expensive,  complicated models and so you might not believe that it's possible to find a decent starter machine. Luckily it is very possible and we've created this buyers guide to the Janome Portable Sewing Machine to prove it.

Ideal For Beginners and Younger Users
If you have been sewing for years and you want a high end, professional model which will help you start your own sewing business then you may want to look elsewhere. The Janome Portable Sewing Machine is a great starter machine which is perfect for beginners, budding young sewers, university students and/or anyone who wants to make simple alterations without all the extra complicated features.
Portable
This is a portable sewing machine which has a lightweight design and only weighs about 3 KG. This makes it the ideal travel sewing machine which can be easily transported to friends houses and sewing classes. It is also very easy to store when not in use and is therefore perfect for people who don't have much space in their homes.

10 Stitches
This sewing machine includes 10 built in stitches to get you started. You can't really expect a portable, affordable sewing machine to offer hundreds of additional stitches and as a beginner you would probably find that you don't end up using them anyway. 10 stitches is a decent amount which will help you learn more about sewing and before you know it you'll be creating some pretty awesome things.
Free Arm Capability
This sewing machine offers an optional free arm which can be used for trousers, sleeves and small objects. It'd actually not that common to find an affordable sewing machine which includes a free arm as it's normally found on more mid range  products so this is a pretty big perk.
Extra Features
This sewing machine offers two needle positions located on the front and centre of the device to give you better precision and more options. It also includes a top loading drop in bobbin pin which makes it super easy to set up the machine and start sewing as soon as possible.
Summary
Features: Ideal For Beginners – Portable – Lightweight – 10 Stitches – Free Arm – Two Needle Positions – Top Loading Drop In Bobbin Pin.
Pricing: Affordable