Everything You Need To Know About Quilting Stencils!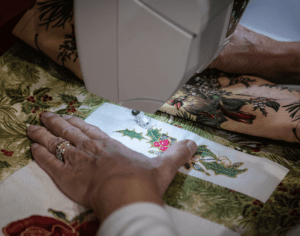 When it's time to start planning the design of the quilt, it can be quite daunting.
Have you ever been faced with a mental block about how the design should look? I know I have!
I will often succumb to the temptation of going back to basics and end up with a crosshatch or a grid pattern. But sometimes it's nice to jazz things up a little bit and that's why I love stencils!
So how do you use stenciling for quilting?
Once you have purchased your stencil, marking is your main task.
You need to mark the stencil pattern onto your fabric.
Before you start stitching, you will want to make sure you are familiar with how the flow of the stitches should go (more on this down below!).
If you need to flow in a continuous motion, this can be tricky for someone who isn't used to having to do it but a bit of practice and you'll be good to go!
When you have finished the stitching you will need to remove the marking from the quilt (again, more on this can be found below!).
Quilting Stencil Tips
When it comes to finding the right stencil for your project, the most important thing to consider is the size.
You will need to know the size of the area you want to quilt and you will want the design to fill this area, pretty much totally.
Quilting Stencil Designs
A lot of stencils are designed for continuous line quilting that uses free-motion quilting techniques.
You may occasionally find a stencil that means you have to stop and start in different places but these aren't too common.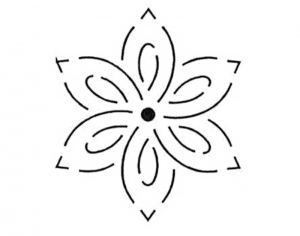 For those of you who hand quilt, this shouldn't pose too much of an issue. However, for those who are machine quilters, it's something to think about before taking on that design.
Saying that, it doesn't mean you should automatically rule it out, because you shouldn't!
There are ways to make the design work for you and enable you to have a line that is continuous. Adding a loop or a curve is a good way to achieve this.
If you can find a way to keep stitching without having to stop and start again, it makes the whole project much nicer!
If you're just getting used to things and free-motion quilting isn't something you're yet totally confident with then stick with straight lines!
You will find a lot of grid-based patterns that will look fabulous!
In your own time, you can start to add gentle curves into the mix, and eventually, you'll be taking on the most complex of designs!
How To Mark Your Quilt For Stencils
So for marking your quilt you can use;
Chalk pencil
Water-soluble pen
Quilt Pounce
Graphite pencil
Hera marker
Plenty of options!
One thing I wouldn't recommend is a Frixion pen - these are great for marking diagonal stitching lines but not so much for quilting designs.
This is just my personal preference as I've found that the odd "ghost" line can show up. Sometimes the marks can come back too.
One thing that I really like about stencils is that you can use them after the quilt is basted.
Whereas other methods of marking require you to use a lightbox and trace the design onto the quilt before basting.
If that's how you like to do things, then that's fine as with stencils, the choice is yours!
For me, a water-soluble pen is my go-to tool when marking but find what works best for you.
A really simple way I have found to get rid of the marks is to use a spray bottle filled with water.
Occasionally you may find that the marks come back in a few places once the material has dried. If that's the case, then repeat the process.
Sometimes if you have applied a lot of pressure when marking, it could seem like quite an effort to get rid of the marks but you will get there!
If it's really quite stubborn then you may find it's worth soaking the area in water for a few minutes to remove any lasting marks.
Towels can be used to remove any excess water and then lay the quilt out, leaving it to dry for a few days.
A good habit to get into is to test the marking tool on a scrap bit of the fabric to see what effect it has. This way you will know what you're up against when you need to remove it from your quilt.
You may find that the stencil will have gaps and you won't be able to continue drawing the line.
Don't panic! These gaps can be connected once you have finished marking.
I appreciate some people may already know this but it isn't immediately obvious if you're new to quilting and/or using stencils.
Marking On Dark Fabric
Chalk pencil works well on dark fabric, I have always found.
Any lines on the fabric are water-soluble, making them easy to be washed out. If you prefer you can erase them with a fabric eraser - both work very well!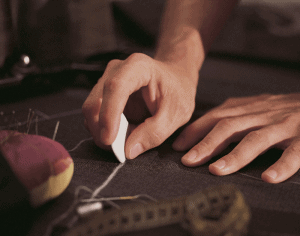 If chalk pencil isn't your thing then you could give Quilt Pounce a go.
The chalk chamber is refillable. Using it is really simple, swipe the pad over the stencil and fills it with chalk.
One of the best things about this product is that the chalk can be erased using an iron.
The whole process is super easy and quick.
A tip for using a chalk product is to only do one section at a time. The reason?
Any marks could rub off before you have reached them or even had a chance to mark the rest of the quilt.
Quilting With A Stencil
The daunting part of a lot of people!
If you have lines to follow, you should feel more confident!
One of the best bits of advice I can give you is if your design is one continuous line then spend some time making yourself familiar with the stitching path.
You will find that some stencils come will a diagram. There will be arrows to show you the best route to take - this can be really useful if you're unsure.
Practice. Practice. Practice.
Especially if you're new to this. Take some time and practice on some paper first or anything. Just get to know the stitching path - trust me!
Order Of Stitching
When I can I choose to stitch in the ditch of my quilts.
Why? It gives an extra degree of stability. It also gives me greater choice for where I start quilting.
I think it also gives an extra bit of definition to the structure of the quilt but you'll have to try it for yourself!
Once I've made a start there, I am free to quilt in whichever area I want to.
That sounds like I don't have much order and that's not strictly true! I tend to work from the centre toward the outer edges.
Doing it this way allows for scope to change things as you go along too.
What Are Quilting Stencil Made Out Of?
More often than not, quilting stencils are more from plastic. It is lightweight and opaque in colour.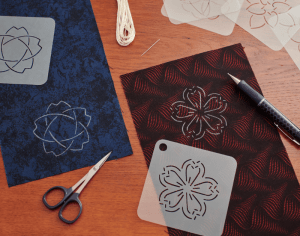 I don't often see quilting stencils in craft shops but when I can, that's where I like to pick them up from.
Otherwise, I resort to buying online, where there is obviously a huge range!
If you're looking to get the best sewing machine for quilting, take a look here!
So that's it, a guide to using stencils when quilting.
Hopefully, that is going to take your quilting designs up to a new level - and not with too much difficulty either!
What is your favourite pattern you're going to try next?