Make A Baby Quilt - No Sewing Machine Needed!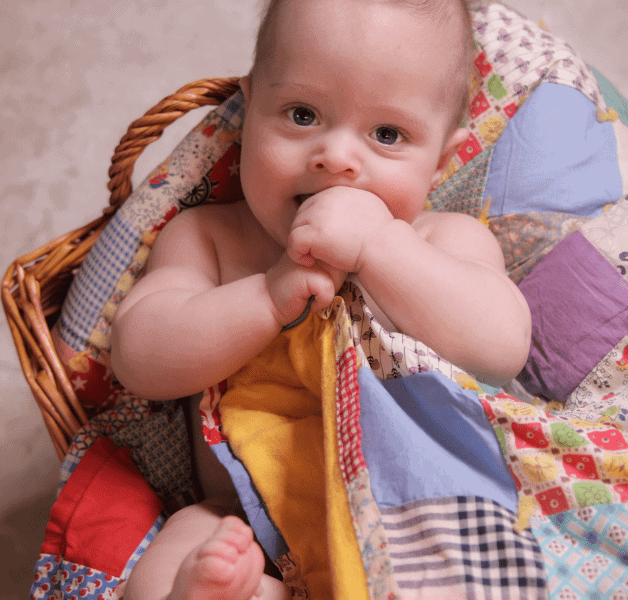 Making a baby quilt can be a really nice project for an expecting mother or someone who would like to gift a quilt as a present.
Hand-made presents provide that extra added touch and can be very personal. It can be easy to think that you need a sewing machine to make a quilt but you don't!
How do you make a baby quilt without a sewing machine?
I'm about to show you quite a simple project - ideal if you're dipping your toes into quilting!
This won't take you too long, a few hours for a couple of evenings and it'll be done! The best thing is, it's not an expensive project either!!
What You'll Make
At the end of this project, you'll end up with a 34" square baby quilt.
Size-wise, this is the ideal size for a baby, one that the parents will cherish for a long time too.
The materials needed for this quilt won't set you back much either. Even if you decide to splash out of the fabric, don't expect it to cost you any more than £30.
Pretty good for a handmade thoughtful gift, right?
What You'll Need
So to create this masterpiece, you're going to need:
1 yard each of coordinating cotton or flannel
Batting, 34 - 36" square
Matching or contrasting embroidery floss - depending on your taste!
An embroidery needle. If you don't have one, a needle with a large eye will do
Regular thread
Regular needle
Safety pins
Scissors
Iron
Pencil
Method For Creating A Baby Quilt Without A Sewing Machine
We will start by creating the 'sandwich'. To start this, we need to cut the fabric into the right shape
Step One
Take the fabric that will the backing fabric and cut this to make a 36" square.
If you're unsure what the backing fabric is, this is the fabric that won't be seen. Much the fabric on the inside of a coat, for example!
Step Two
Once you have it into a square shape, pop it so that it's facing down. Either on a table or the floor.
You may find it handy to keep it in place by using some masking tape.
Step Three
The batting can now be put onto the fabric. The fabric itself may not be smooth so you can take this as an opportunity to fix that and flatten it out.
Step Four
Time to tackle the top fabric!
The same process, trim it to a square but this time, make it a 34" square.
Now you can place this fabric on the batting. Again, smooth any wrinkles out.
If it's not quite smoothing then you can take an iron to it.
One thing to note is top fabric will be around 2" smaller than the backing fabric and the batting.
Step Five
Using the safety pins, pin the layers together, leaving around 5 inches between each pin.
Step Six
The quilt should still be on the floor or table.
Take the pencil and use this to mark when the ties are going to be.
Some people find it helpful to use a ruler but others find that they don't need to on this size of the quilt. Do whatever you feel comfortable with!
Step Seven
Now it's time to make it all come together!
Hand Tying A Quilt
This is where the heavy thread and needle come into play!
They are going to have to work through the three layers and you want this to last a long time so you need it to be secure.
As we work our way around the quilt, you will want to create knots at regular spots.
The knots work to keep all the layers secure and to prevent them from shifting when the quilt is in use or being washed.
Let's be honest, it's a baby quilt, it's going to be very familiar with the washing machine!
A lot of quilters like to use the pillowcase method for finishing it off.
This involves the outer edges of the quilt being sewn first.
After that, it can be turned inside out. Just like you do with a pillowcase - see how it gets its name?
Before you jump into tying it, the quilt will need to be turned the right side out.
If you would like your quilt to be bound with standard strip binding then you will need to tie the knots before you bind the quilt.
The knots need to be evenly positioned. How to determine where to place these is simple.
The batting should have a recommended distance and you can follow this.
What you need to do is to plan for them to be in an even grid. If you look at the design of the quilt, you should be able to get an idea of where the knots should go.
How To Tie A Quilt
Step One
Time to decide where the position of your knots will be. Either the front or the back.
Either one is fine, it's totally up to you!
Step Two
You should have removed the wrinkles on the quilt and still have it on a flat surface. But if not, now is the time!
Step Three
Take the pencil (or water-soluble pen) and mark where you want your knots to be.
Step Four
Thread your needle.
You want to start from the centre of the quilt and work your way out.
Put the needle in, ensuring it goes through all of the layers, and pull it back. Try to get it as close to where the needle initially went in.
Ideally, you want the two-points to be less than a centimetre apart.
If you want something to make it easier then you can use a rubber thumb or some people like to use a thimble.
Step Five
Trim the thread so you have two tails - these want to be around 5cm in length, each.
Step Six
Make a surgeon's knot in the thread and you will want to pull it tightly.
Once you're happy that it's tight, cut the tails of the knot. The tails left should be around ½".
Step Seven
Continue this process until you have knotted all of the quilt!
Completing Your Quilt
Now that your quilt is tied, the safety pins can come out!
The edges now need finishing up - this is an easy step!
Fold each edge of the backing around ½" and iron.
One thing you can do to add a mitered look. This can be done by folding a triangle on each corner.
You need to do this before folding the edges.
As I say, it's not something you need to do, but if you think it'll finish things off nicely, then go for it!
The final little bit!
Hand-stitch the perimeter of the quilt.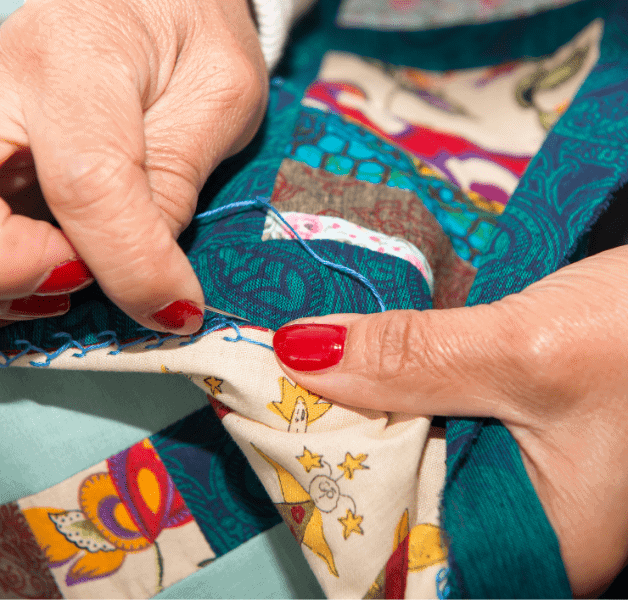 Job done!
One thing you can do, and it's a really nice touch is to sign the quilt. It adds memory and dates it.
Take a permanent marker, add your name, date, and even the occasion. I like to do this on the back of the quilt, somewhere that isn't going to be seen often.
It adds a story to the quilt. One which will last for many years to come.
Who are you going to make a quilt for?
Tempted to take on a more challenging quilting project?