Product
Janome
Brother
Toyota
Title
Best Sewing Machine for Beginners
Best Brother Sewing Machine for Beginners
Best Affordable Sewing Machine for Beginners
Janome
Product
Title
Best Sewing Machine for Beginners
Brother
Product
Title
Best Brother Sewing Machine for Beginners
Toyota
Product
Title
Best Affordable Sewing Machine for Beginners
Best Beginner Sewing Machines
Sewing is a skill that has recently seen a steady rise in popularity. More young people are now taking up a hobby that was once associated with older generations. What many people fail to realise is that being able to use a sewing machine is actually a very valuable skill to have.
Of course, if you are a beginner, then you are not going to want to jump straight into using a complicated sewing machine. Fortunately, there are plenty of beginner machines on the market at the moment.
In order to take some of the time out of researching different sewing machines, we have tested and reviewed some of our favourite models for beginners. Take a look below to find out more information.
1. Janome J3-24 Review – The Best Choice
Features: 24 Stitches – Built In Needle Threader – Drop Feed – Thread Cutter – Variable Stitch Width – Variable Stitch Length
Pros:
24 different stitches to choose from.
Built in needle threader
saves a lot of hassle.
Rotating free arm for circular sewing.
Very good drop feed for free hand embroidery.
Cons:
It can take a little while to get used to all of the functions.
The Review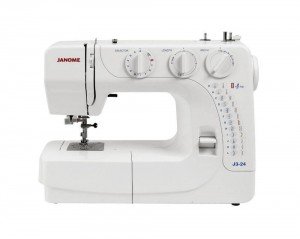 The first sewing machine that we are going to add to our list of the best sewing machines for beginners is this model from Janome. We hadn't actually used or heard of this brand before so we were really surprised by how impressed we were with it. 
To start off with, it is definitely worth noting how solid this machine is. You can definitely tell that it has been built and designed to an incredibly high standard. Now, onto the features. We were very impressed by the amount of built in stitches.
With 24 different types of stitches to choose from, it is very unlikely that this machine won't be able to stitch what you need it to, especially as a beginner. The built in needle threader is a really nice addition as it makes things much easier and saves a lot of time.
One of the features that we really liked was the rotating free arm which allows you to carry out circular sewing. We also really liked the drop feed which allows you to do free hand embroidery, so if you want to make your own designs then this is perfect.
The only thing that we will say is that it does take quite some time to get used to all of the different features that this machine has to offer. However, it is a great model and one that we would absolutely recommend for a beginner.

2. Brother L14
Features: 14 Stitches – LED Light – Drop In Bobbin – Twin Needle Sewing – Auto Bobbin Winding – Manual Tension Setting
Pros:
Ideal for beginners because it is quite a basic machine.
Very lightweight so storing it is very easy.
The machine is surprisingly quiet.
It comes with a helpful instructional DVD.
Cons:
There could be more stitches to choose from.
It seems to struggle a little with thicker fabric.
The Review
The next sewing machine to make it onto our list of the best sewing machines for beginners is this one from Brother. Brother are a very well respected sewing machine brand so we were expecting good things and we are happy to say that we were definitely not disappointed.
The first thing to talk about is the design. At first glance, we were a little disappointed by the appearance of the sewing machine. We felt that it looked a little flimsy. However, upon closer inspection we were pleased to find that this wasn't the case.
One thing that we did really like about this Brother sewing machine is that it is very lightweight. This made storing it incredibly easy which was a definite plus point. When we tried out the machine, the one thing that we did notice is that it seemed to struggle a little with thicker fabrics which was a little frustrating.
We also felt that there could be more built in stitches to choose from as 14 is quite a small amount. We were, however, really impressed with how quiet this machine is as we were expecting it to be considerably louder. Overall, we really liked this machine and would definitely recommend it.

3. Toyota ECO15CG
Features: 15 Stitches – Quick Advisor – Built In Sewing Light – CD Instructions
Pros:
Very easy to set up.
Handy CD guide to get you started.
High quality design yet lightweight.
Cons:
It is a very basic machine with only 15 stitches.
It can be quite noisy.
The Review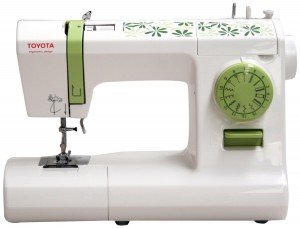 The final sewing machine that we have decided to add to our list of the best sewing machines for beginners is this model from Toyota. We have tested Toyota machines in the past and always been very impressed, so we weren't surprised that we were pleased with this one.
In terms of design, it is worth pointing out that this machine is very basic. It only has 15 stitches to choose from and not much in the way of extra features. However, for a beginner it is absolutely perfect. One of the things that we really liked with this one is how easy it is to set up.
It took us a matter of minutes and the machine was ready to go. Something else that we liked is the CD that comes with the sewing machine. This explains all of the features and gives you a brief guide which is perfect for those with no sewing experience.
Although it is basic, this machine is well designed and has everything that you need to get you started so we would definitely recommend it.
We hope that after reading through our reviews you now have a much better idea of the types of beginner machines that are available right now.