Product
Brother
Silver Viscount
Janome
Title
Best Sewing Machine for Embroidery & Dressmaking
Best Computerised Sewing Machine for Embroidery & Dressmaking
Best Affordable Sewing Machine for Embroidery & Dressmaking
Brother
Product
Title
Best Sewing Machine for Embroidery & Dressmaking
Silver Viscount
Product
Title
Best Computerised Sewing Machine for Embroidery & Dressmaking
Janome
Product
Title
Best Affordable Sewing Machine for Embroidery & Dressmaking
Top 3 Embroidery & Dress Making Sewing Machines
If you're reading this it means your looking into embroidery and/or dress making so you have a pretty good idea of what you want to use the machine for, but there are still a few things you need to think about before making a purchase. What is your budget? Are you a novice or an experienced sewer? Are you going to make a career out of sewing or is it more of a weekend hobby? All of your answers will affect how much you should spend, how complex your sewing machine should be and how many extra features it should have so make sure you've considered this and you have a good idea of your budget before proceeding.
Selecting the right sewing machine isn't something that should be taken lightly. A sewing machine is a pricy, long term investment and you need to think carefully before buying to ensure you've made the right choice for you. We understand that you might be confused (especially if this is your first embroidery and dress making machine) and that you probably don't want to send all your free time googling sewing machines so to make things easier we have comprised a list of the top 3 sewing machines that are designed for embroidery and dress making.
Brother Innov-is NV955 Review – Our Number 1
This Brothers sewing machine is ideal for complete beginners and experienced dress makers alike and the long list of features and options designs will ensure that your embroidery stands out in a good way!
You can control the Brothers Innov-is via the extra bright LED lit LCD touch screen panel. This takes away a lot of unnecessary stress so you have more time to spend on your designs without having to worry about the finicky and manual side of things. The extra bright LED lights will also make it much easier to see what you're doing even in dark areas.
This sewing machine comes with a 10cm X 10cm embroidery area and an advanced needle threader.
The Brothers Innov-is sewing machine comes with a total of 296 embroidery designs (including 126 on an included CD and 100 on a USB stick) so you have plenty of design options right at your fingertips and you can ensure that your creations look unique.
This sewing machine comes with a two way extension table to make your embroidery easier and more productive.
The Brother Innov-is offers ten different styles of one step button holes. I'm sure most of you are already aware that one step button holes are a quicker and more efficient alternative to four step button holes because as the name suggests the sewing machine will create each button hole in one step without you having to do extra manual work. In addition to this having ten different button hole styles gives you a broader range of options and allows you to make your clothes even more unique.
This machine has 129 built in stitches. This is pretty important because as you will be using this machine for dress making and/or embroidery there are some stitches you just can't do without and you will need a wider selection of options. 129 stitches will include everything you'll need to make clothes and/or embroidery without including things you'll never actually use.
The Brothers Innov-is comes with an automatic needle threader which will help you thread quickly and more efficiently without straining your eyes.
This sewing machine includes a 7 point feed system. The larger the feed number the more control you should have over your sewing machine.
The Brothers Innov-is comes with a free arm. This is an ideal component for making trousers and sleeves and so is ideal if you're planning to make clothes.
This machine comes with a USB port which makes it a lot easier to transfer your designs.
Finally this sewing machine comes with a three year return to base warranty. Warranties are a good idea in general but they are especially important when it comes to sewing machines because sewing machines are a large, often pricey investment which you will want to use for years to come. You'll want something that is guaranteed a long life and can be replaced in the event of manufactured or accidental damages.

Summary
Features: Extra Bright LED  Lit LCD Touch screen – 296 Embroidery Designs – Two Way Extension Table – Ten Styles of One Step Button Holes – 129 Inbuilt Stitches – Automatic Needle Threader – Free Arm – 7 Point Feed – USB Port – 3 Year Warranty.
Pricing: Mid-Range
2. Silver Viscount 9500E Review – Number 2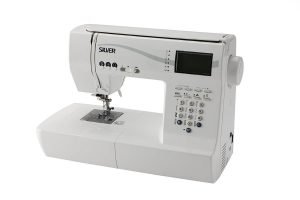 The Silver Viscount 9500E is an impressive, detailed machine which offers loads of extra features to improve your sewing experience.
This sewing machine offers 503 stitch patterns! This is a great feature especially if you are interested in embroidery and/or making clothes because you will have almost top many stitch choices.
The Silver Viscount 9500E comes with automatic one step button holes so you can save time on the fiddly bits and concentrate on the design.
This machine is complete with a convertible free arm and an automatic needle threader. These are both time saving features which can be a real help when it comes to making clothes.
The Viscount 9500E has an internal metal frame. It's always a good idea to invest in a sewing machine with metal parts because they tend to last longer and work well under pressure.
This machine comes with soft touch buttons and extra lighting to make your sewing tasks extra easy even in the dark.
The Silver Viscount also offers an easy to read LED display which is suitable for all ages and abilities.
This sewing machine also offers extra smart functions, 3 alphabets, 4 memory banks and a deluxe walking foot.
Summary
Features: 503 Stitch Patterns – Automatic One Step Button Holes – Convertible Free Arm – Internal Metal Frame – Soft Touch Buttons -Easy To Read LED Display – 4 Memory Banks – Deluxe Walking Foot.
Pricing: Affordable

Janome 525S Review – Number 3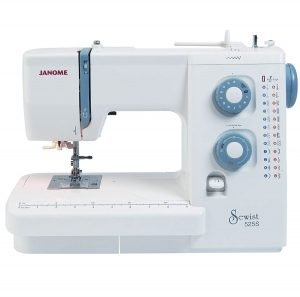 This particular sewing machine has previously won an award for best buy and was featured as part of a sewing TV programme on the BBC. Read on to find out why.
This sewing machine is easy enough for beginners and versatile enough to suit more experienced users so whatever your experience level you will be able to get a lot out of this machine.
This sewing machine is super easy to use. To select a stitch all you have to do is pick the appropriate letter on the machines dial and start sewing straight away.
The Janome 525S offers a reasonable selection of 24 built in stitches which will get you started without overcomplicating things.
The Janome 525S can be used to stitch a variety of lengths and widths with its inbuilt needle threader.
This sewing machine comes with a bobbing system which is jam proof to protect you against delays
The Janome comes with a free arm which is ideal for circular sewing as well as creating trousers and sleeves.
This sewing machine comes with a handy thread cutter.
The Janome 525S makes it easy to switch to foot powered conversion and adjustable foot pressure.
Summary
Features:  Easy To Use – 24 Stitches – Jam Proof Bobbing System – Free Arm – Thread Cutter – Adjustable Foot Pressure.
Pricing: Affordable

Verdict
These are all great sewing machines which are guaranteed to help you create your ideal patterns and clothes, but there can only be one winner. First place goes to Brother Innov-is NV955 Sewing and Embroidery Machine.
There is a lot to say about this sewing machine but to keep things short let's highlight that it offers  an extra bright LED LCD display, it has 296 embroidery patterns, there is a two way extension table to make your life easier and your designs more stable, not only does it offer one step button holes but there are ten different styles to choose from, it has a large choice of stitches without bulking up on things you'll never use and it comes with a handy 3 year warranty.